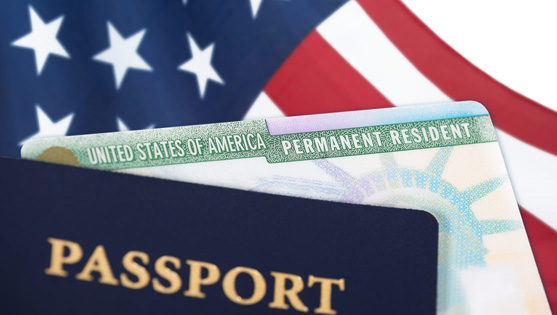 Green Card through Marriage
Green Card through Marriage
Allegheny Immigration Group has experienced green card through marriage lawyers to assist you with getting a green card for your spouse. We are ready and able to help you apply for a green card for your spouse.
There are approximately two million weddings every year in the United States. The U.S. Census Bureau reports that 21% of married couple households have at least one foreign born spouse. Americans are perfectly free to marry non Americans, and they commonly do.
When an American citizen marries a non-citizen the non-citizen can get a green card as a result of being married to the citizen. After all the citizen has rights to, among those to have his or her spouse live with them.
Our Green Card Marriage lawyers have helped perhaps hundreds of foreign born spouses of U.S. Citizens get their Green Card through Marriage, and we would love to help you.
The basic requirements to get a green card for your spouse are:
You must be a law abiding U.S. Citizen
You must be lawfully and actually married to the foreign spouse
You must be able, on you own, or together with your spouse, to financially support the spouse.
Of course there is more to it than that, but Allegheny Immigration Group immigration through marriage lawyers are ready to guide you through the process with transparency and a minimum of stress and hassle.
The process involves the citizen-spouse filing first, basically notifying the government that they are a citizen and have married a noncitizen and asking the government to allow the non-citizen spouse to apply for a green card. The non-citizen spouse usually files for a green card at the same time.
There is a waiting period of several months and during that time the noncitizen spouse will have to be fingerprinted, undergo a medical exam, provide documentation about who they are, and the like. The government may ask the couple to come in and be interviewed to determine the bona fide nature of the marriage, however, where the parties are represented by counsel, a waiver of the interview requirement can be requested.
The process is not without potential pitfalls, especially for those who try and navigate the immigration system by themselves. The government can reject nonconforming applications or request additional evidence, costing precious time and money for the applicant. Allegheny Immigration Group Immigration Lawyers can help you get it right the first time.
Allegheny Immigration Group offers a consultation for immigration clients. During this consultation, Allegheny Immigration Group Immigration Lawyers will meet with you and discuss your concerns and any special matters that may be specific to your case. Fees will be clearly spelled out so that there will be no surprises. In many cases we offer flat fee quotes in immigration through marriage.
Congratulations on your marriage! We hope to be there with you as you go through the process of getting a green card for your spouse.